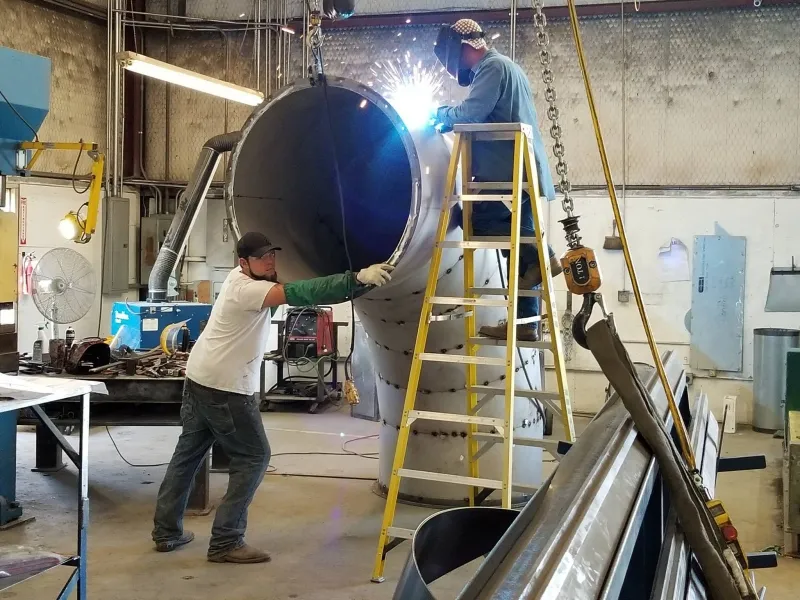 Air Cleaning Technology, Inc. was founded in 1995 as a manufacturer's representative company by three men who have extensive backgrounds in custom metal manufacturing and dust collection system design and installations.
We have the ability to design, cut, form, and fabricate stainless steel, carbon steel, galvanized, aluminum, copper, brass, and special alloys from 26 gauge up to 3" plate and structural steel (beams, channel, angle, square and round).
Our expert technicians are specialized fabricating and installing "turn key" systems. Thus meaning, that we have employees that design, fabricate and install. This way we can keep all work in house, keeping costs down and lead times down for the customer.
Complete Fabrication Facilities
In 2001, to better serve our valuable customers, we opened a complete fabrication facility with the capabilities to not only fabricate, but also do field installations. This has helped us reduce the overall cost by being able to handle turn-key projects in house.
Our operations comprise of over 22,600 square feet which includes 14,000 square feet of manufacturing, 3,200 square feet of office space, 2,400 square feet of painting and staging – including a 30'x 40' booth – and 3,000 square feet of indoor storage. 
Field Millwright Services / Installation
Dust collection Eq. and Blow pipe, equipment installation, building modifications, bucket elevators & conveying systems, on site welding, structural.


Drafting/ Design Group
Our in house design team uses 3D modeling programs as well as 2D to design any product for any project. There is a total of 10 computers with CAD programs on them in our facility.


Welders
We have trained and talented welders on staff. As well welders who are very capable at Tungsten Inert Gas (TIG), Metal Inert Gas (MIG), and Stick welding. We have approximately 10 MIG welding machines, 4 TIG Welding machines & 4 Gas Powered Stick Welders. We have experience welding very thick plate as well as paper thin aluminum, you name it and we can weld it!


Painting
We have capabilities finish coating just about any product we build. We can do conventional spray as well as specialty coatings.


Cutting Capabilities
We have a 260 AMP HD CNC Plasma Table with True Hole Technology. Which has capabilities of cutting 26 gauge materials up to 2" thick materials. It also has capabilities of piece marking and scribing (good for part numbers or serial numbers). We also have a 100 AMP CNC Plasma Table with capabilities from 24 gauge to 3/4" plate. There is also a number of hand plasma machines through out our facility. Our capabilities also include a 10' plate shear capable of shearing up to 10 gauge diamond plate and thinner materials.


Fabrication / Forming Rolling
We have a 240 ton Hydraulic 12' CNC Press brake w/ CNC back gauges, 90 ton 10' press brake with CNC back gauges, 45 ton press brake, miscellaneous hand brakes. We have several Rolling machines allowing us to roll 3" dia. as well as roll up to 1/2" plate. We have iron worker machines capable of notching and cutting angle iron and flat bar of any size. We have a pipe/ tubing bender.


Factory Trained Technicians
We have field technicians that have trained by Donaldson Torit to work on, service and trouble shoot any model of Donaldson Torit Collectors and even other manufactures. No matter your industrial filtration requirements, we have the right solution for you. We we service and install cartridge dust collectors, cartridge filters, baghouse dust collectors, baghouse filters, and more!